Article
Tip of the Week: Speak Your Customers' Languages
Published May 6, 2010
Last modified May 6, 2010
Before you can provide your customers with quality support or service, you first need to make it easy for them to reach you. You could have the most streamlined ticketing workflow in the business; it don't mean much if your customers can't submit a ticket.
We talk a lot about channels of support - email, phone, social media; meeting your customer where they are. One large aspect of that which probably doesn't get enough attention is language - don't just provide your customers the channels they need to be in touch; provide those channels in the language they speak.
With Zendesk, you can switch your support web portal and all your email communication to the language your customers use. If you serve a customer base that speaks multiple languages, a Zendesk Plus+ account allows you to work with those multiple languages simultaneously.
Email
You handle what your emails say through the Triggers and Email Notification page under the Manage tab. Changing the language there is as simple as changing the text. So, for instance, take one of the default email notifications Zendesk comes with: Notify Requester of Received Request. Click edit next to this on the Triggers page and swap out the email body under the Perform these Actions section with the text you want: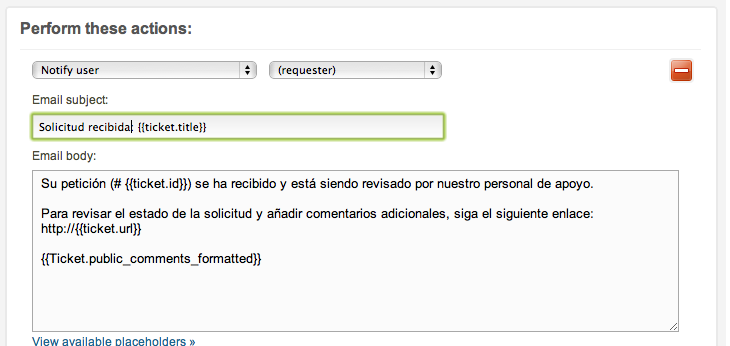 Web Portal
For your web portal, the language setting is controlled on the Personalize Your Zendesk page under the Account tab. There it's a simple dropdown. Choose your language and your customer facing web portal pages will switch to that language.
And on the Plus+ plan, you'll also see an option for "Additional Languages". Click this and you'll be given a set of checkboxes from which to choose the languages you want your web portal to support. There are currently 41 languages supported.
With this in play, your users will be given an option to choose their language when they visit your portal.