Your Help Center doesn't have to look bland anymore. Give your users the best of experiences with Odense Theme. This custom fully Zendesk Guide compatible theme is packed with unique branding features and a user-friendly interface.
You can view the Odense Theme overview here. And these are the benefits you can get using the theme:
Enjoy an intuitive interface
Your Help Center is meant to help people rather than confuse them, so a user-friendly interface is a 'must'. Odense Theme is just about that, topped off with the modern design and easy-to-use features, such as the always visible Header, Sidebar Navigation, categories with customizable icons, and Prev/Next buttons.
Exploit extra formatting elements
We can't think of a single person that enjoys learning from large-scale texts. Formatting components can do wonders for your Help Center layout, making the self-service process an enjoyable experience. Try such visual features offered in Odense as tabs, callout blocks, accordions, and Font Awesome Icons. You'll never want to go back to a bulky text format anymore.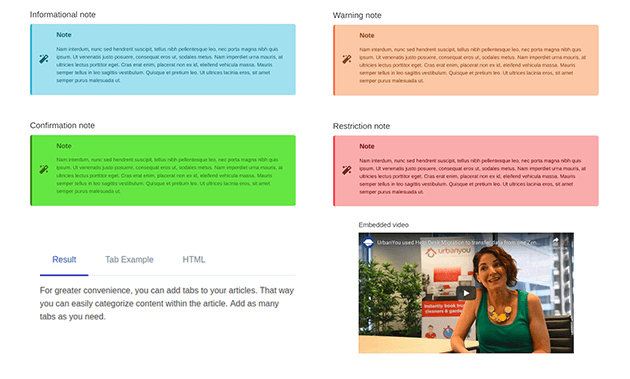 Access from everywhere
When it comes to devices and browsers, the Odense theme has no limitations. Access the Help Center whenever you want, from a desktop or a smartphone, with equally perfect service every time. Moreover, it works equally perfect with any browser.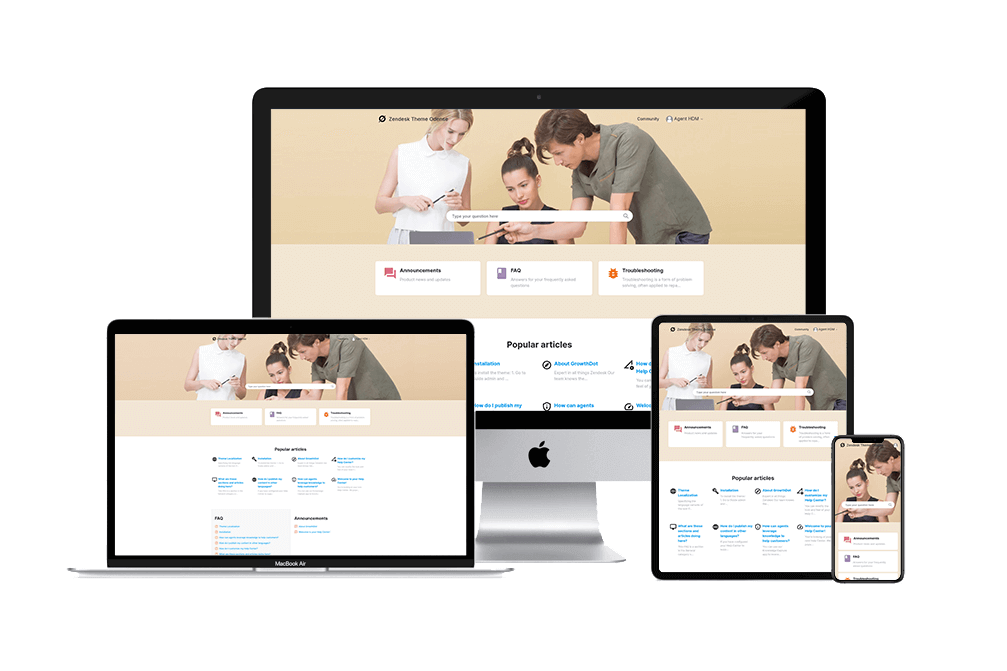 Personalize the theme
Make your Help Center meet the style of your main website by taking advantage of theme branding - alter the logo, colors, fonts, and more with little to no effort. And if you're aiming toward the highest possible resemblance, try out our theme customization to change the layout, add elements, and other tweaks. The customization does require some basic knowledge of HTML or CSS, but with our crystal-clear codebase, the process is super easy. However, if coding is not your thing or you'd rather have professionals handling the personalization, you're in luck. We offer Branding or Customization services to give your Help Center a makeover of your dreams.
Make use of multilingual content
Deliver unified customer service across the globe – Odense theme supports Dynamic Content feature to let you set the title, buttons, and articles to be shown in multiple languages.
Obtain the Odense theme instantly
Forget about waiting - get a hold of your Odense theme import file in less than 5 minutes after the purchase. We made sure you can use and enjoy our themes straight out-of-the-box, completely bug-free. Our team always puts customer's satisfaction first, providing three-month warranty coverage and a secure payment process.
Get a free installation service.
Whether you don't have time to mess around with the installation process or simply don't know all the insights on how to do it correctly, we can set up everything for you for absolutely no cost. You can go on with your business and then log in to your Help Center when it's up and running.
Bring your Help Center to a new level with the Odense theme and believe us - your customers will thank you for this choice.