Try CRM Software for Free
Try CRM Software for Free
Take the guessing game out of choosing the right customer relationship management software for your business.
A guide to the best free CRM software trial
A CRM system should be able to do a lot of heavy lifting for your business. A free CRM software trial gives you a good idea of whether the platform can adapt to your business's specific needs, and whether you should plan on investing in it for the long term.
In this comprehensive guide to the best free trials of customer relationship management platforms, you'll discover what features you can expect to be included in the best free CRM apps, how they can benefit your business, and our recommendations for the top 10 free trials.
Why does your business need a free CRM trial?
You're always thinking about your customers. But they're not always necessarily thinking about you.
Customers need to be reminded, nudged, motivated, nurtured, and tracked—but with an expert touch. Without the proper customer relationship management software, it's easy for your customer data to get jumbled and disorganized, which can result in some very annoyed customers and very stressed-out sales reps.
Sure, your agents could keep logging data in multiple spreadsheets, BCCing other teams into emails that get lost in the mix, and trying to track and record every customer interaction on their own—but why would you want to? In 2022, decentralized spreadsheets and murky pipeline practices are as out of date as rolodexes and the telegraph.
There's no good reason to cling to systems that can cause burnout, frustration, or lost sales — especially when there are free options that can seamlessly streamline the sales process. Because when it comes to customer relationship management, free doesn't have to mean skimpy.
What are the benefits of trying CRM software for free?
You wouldn't buy a car without giving it a test drive, and a sales CRM is no different. Testing out customer relationship management software for free lets you play with all the time- and energy-saving CRM perks, minus the financial commitment. So when the time comes to plunk down some dollars, you'll know exactly what you're getting.
When shopping around for free sales CRM trial, keep an eye peeled for these powerful features:
Ticket forms: Dynamic request forms that quickly give agents the right context, so they're prepared to offer personalized customer support without having to dig through mountains of unorganized records.
Macros: Create and share macros in order to quickly react with a standard response and set of actions to familiar requests, so your team spends less time answering the same kinds of queries over and over again.
Views: Customizable views allow agents to see their queue based on ticket status, assignee, group, or other conditions, ensuring that nothing gets overlooked.
What are popular free CRM software features?
Not all sales reps have the same needs, so not all free CRM tools for sales reps are created equal. Still, most will provide similar features, and then allow you to customize to suit your needs.
When a customer relationship management system provides a free version of their product, their list of features should pack a real punch. After all, a free version of anything is still just another marketing tool. Companies want to show you what they've got, and you deserve to be picky.
Here are some free CRM tools you'll find in your search, and how they can give your business a leg-up over your competition.
CRM dashboard

Gather all of your most important customer data in one centralized and customizable location. When everyone has access to the most current information, opportunities fall into laps — not through cracks.

Messaging

A solid free CRM platform offers messaging options across web, mobile, and social media apps. Additionally, customizable message automation frees up your agents' time, even while your customers have their queries handled over their preferred communication platforms.

Sales pipeline automation

With a bird's-eye view of your customer's journey, you can easily track and identify gaps in the sales cycle with pinpoint precision, and then apply your efforts where action is needed the most.

Power dialer

This useful tool lets you generate call lists with the click of a button, log and record calls so valuable information is never lost, and send follow-up texts.

Lead management

Good lead management software will let you process, analyze, and nurture leads from multiple channels as they come in, allowing you to begin tracking the customer experience the moment they show interest.

Mobile app

Business is happening everywhere these days, and even the best free CRM system will do you no good if you have to be tied to a desk while using it.
Top 10 free CRM software trials
Some business decisions are risky, but picking the right customer relationship management software shouldn't be one of them. Most customer relationship management software platforms offer free trial versions of their software to eliminate the guessing game and put you in the best place to make smart commitments.
But here's where the "free" part of the equation can trip you up. Test driving free online software shouldn't be treated like an ice cream shop, where you can (and definitely should) sample every flavor. Your team won't thank you for forcing them to adapt to dozens of free sales CRM software trials before making a commitment.
Before jumping into a test run of free CRM for sales reps, you'll have to do some introspection about which features your business actually requires; then, glance over our Top 10 recommendations. Figure out which one best suits your needs. There's a lot to consider, not least of which is the price you'll eventually pay if you decide to stick with your chosen service.
Keep reading below for our top 10 best free trials on the market in 2022.
A successful business depends on happy customers. Just as important, however, are happy employees. You should get both out of your free CRM system, which is why Sell offers a 2-week free trial version of their cloud-based all-inclusive sales CRM, and priced packages starting at $19/month per user.
Configured with the modern sales rep in mind, Sell allows your representatives to keep a sharp eye on every aspect of the sales cycle without bogging them down in scattered data. With an intuitive dashboard, easy customization options, and a free resource library, Sell's learning curve is guaranteed to be a bunny slope, not a black diamond.
A key features of Sell's free CRM for small business trial is its powerful lead management system that lets sales orgs stay on top of every lead until it converts.
Customer Size: Small (1-50 users) to Enterprise (201 + users)
Notable features:
Lead and sales tracking software
Reporting and analytics
Power dialer
Funnel and CRM reports
Sales pipeline management
API access
Mobile app
Performance reporting
Integration with ZD Support and Suite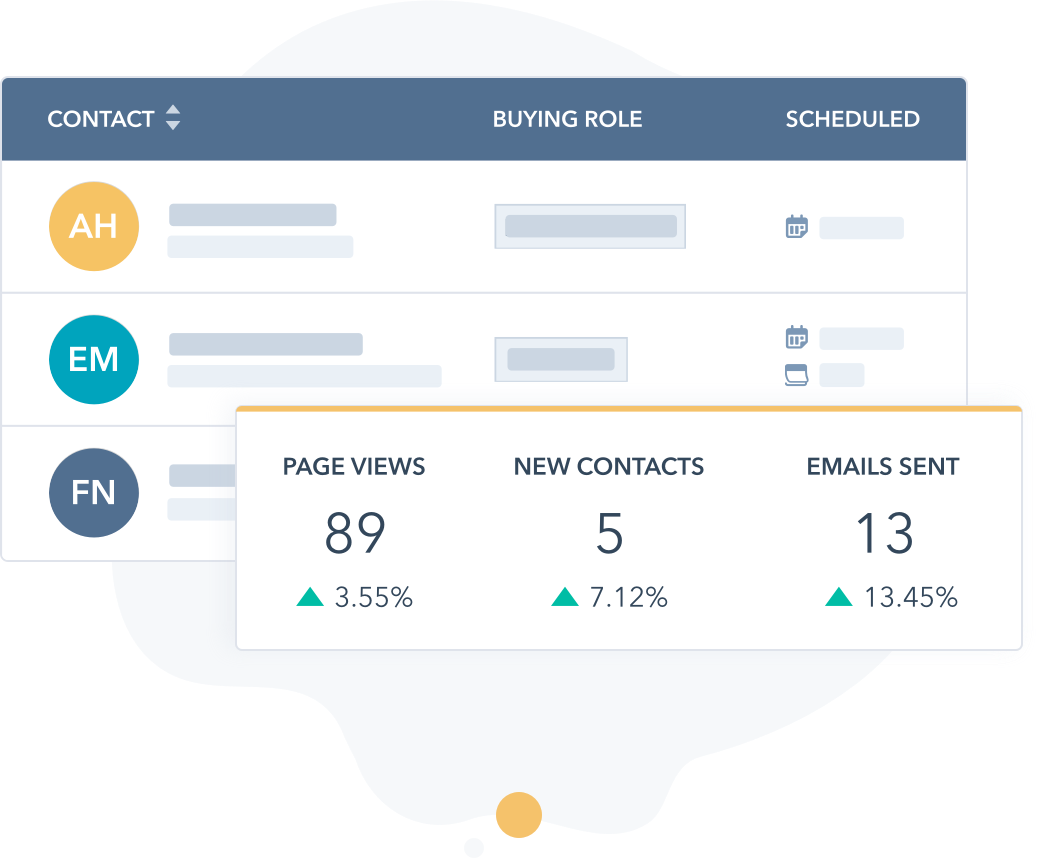 Offering a 14-day free trial and with pricing tiers beginning at $50 per month, Hubspot is built for businesses using (or planning to use) inbound marketing techniques.
Hubspot offers advanced options for those who can throw down the cash for it, including its Content Management, Operations, Service, Sales, and Marketing Hubs, all of which can be integrated with its platform from one centralized site.
Hubspot CRM Customer Size: Small (1-50 users) to Enterprise (201+ users)
Notable software features
Contact management
Email marketing
Live chat
Data sync
Dashboard
API access
Task assignment
Learn more about HubSpot App for Sell.
Less Annoying offers free platform for small businesses, allowing them to consolidate calendars and tasks onto a single dashboard. With an email logging feature, daily agenda mail, one-click export, and 256-bit encryption, the team at Less Annoying offers functionality and security, all while marketing themselves as being… well, less annoying.
Less Annoying offers a 30-day free trial, and a pricing model starting at $15/month per user.
Less Annoying Customer Size: Small (1-50 users)
Notable software features
Channel management
Customer database
Dashboard
Search/filter
Project management
Partner tracking
Task assignment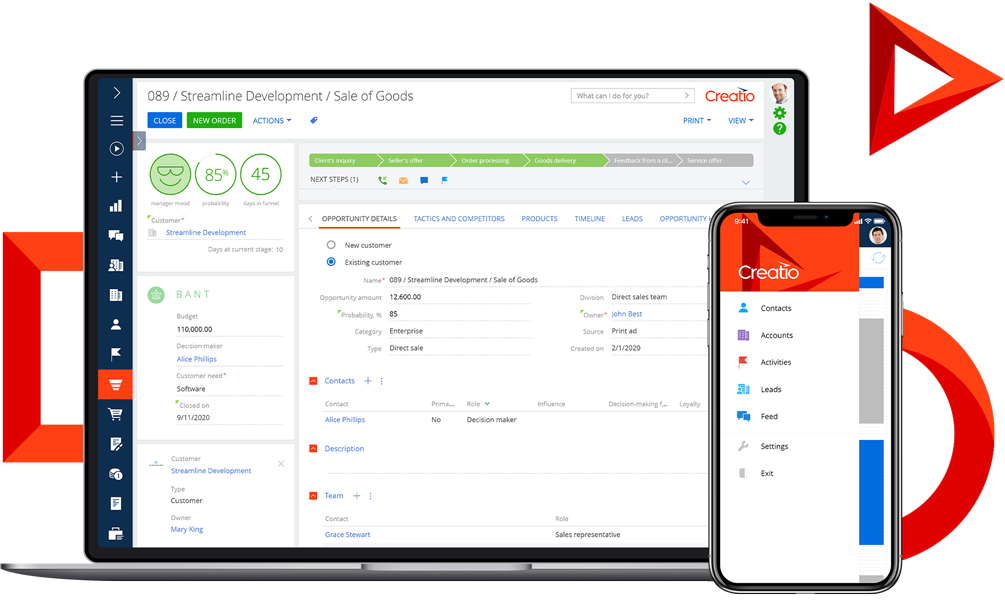 Creatio CRM is a cloud-based, low-code technology platform offering a 14-day free online trial, and priced packages starting at $25/month per user. Creatio CRM can be used on its own, or bundled to bring together marketing, sales, and service onto one customizable platform.
Creatio software is aimed at teams looking to become their own developers, whether they hail from Human Resources or Payroll. Their low-code platform allows for the creation of customized forms, email templates, and contracts, depending on their individual business needs.
Creatio CRM Customer Size: Small (1-50 users) to Enterprise (201 +)
Notable software features
Funnel reporting
Integrations
API access
Quotation handling
Contract management
Sales gamification
Database management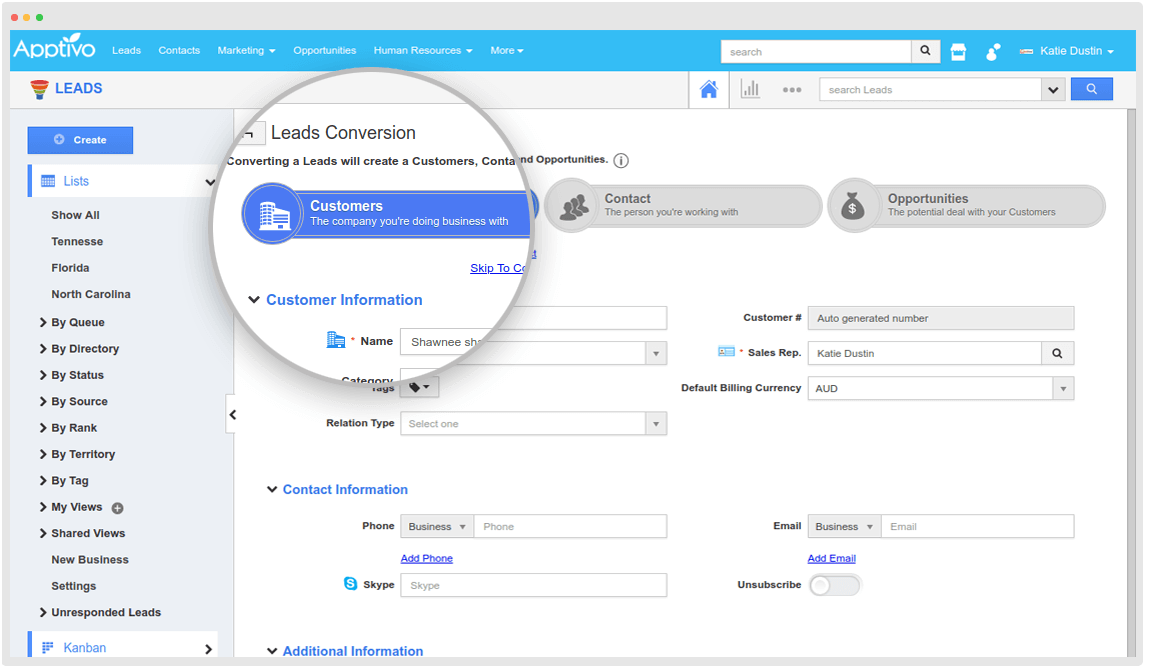 Apptivo is one of the lesser-known CRM software options available on the market, but does offer third-party integrations with G Suite, Outlook 365, Slack, and over sixty other programs. They also offer a 30-day free trial.
If you happen to be your entire company, Apptivo offers a free CRM for small businesses with its Starter version, which includes eight apps for a single user. With more than one user, plans tick upwards to its Lite package, which offers 18 integrated apps at $10/month per user.
Apptivo Customer Size: small (1-50 users) to Enterprise (201 + users)
Notable software features
Lead generation
Mobile access
Email marketing
Document storage
Quotes/estimates
Calendar/reminder system
Internal chat integration
Aimed at small businesses looking to integrate sales and project management, Insightly hosts a customizable interface without a ton of frills. If you're interested in giving it a test drive, Insightly offers free CRM for small businesses with 2 users, as well as a 14-day free trial for larger organizations.
If you like what you try, Insightly's pricing packages start with its Plus Plan, which includes integrated project management capabilities, associated task tracking, and email templates.
Insightly Customer Size: Small (1-50 users) to Medium (51-200 users)
Notable software features
API access
Lead qualification
Pipeline management
Project management
Social media integration
Territory management
Funnel reporting
iSalesCRM offers a 2-week trial version, after which pricing models jump to $99/month, which comes with Voice over Internet Protocol and intensive automation software.
iSalesCRM's complete customer relationship management features include syncing capabilities with Google calendars, calling, sales, and vendor analytics, and automated lead distribution.
Training videos and tutorials are available to aid with adoption of this hefty software.
iSalesCRM Customer size: small (1-50 users ) to Enterprise (201 + users)
Notable software features
Two-way messaging
Analytics/ROI tracking
Lead distribution
Local caller ID
Communication management
Drip campaigns
Calendar management
Salesforce's well-known cloud-based platform offers artificial intelligence capabilities, online training and web seminars, pre-configured processes, dashboards, predictive lead scoring, and analytical reports.
Salesforce Sales Cloud comes with a long list of features, including team collaboration tools, client/property matching, and even commission management. But with so many bells and whistles, a 14-day free trial may not be enough time to know if your business really needs all of those features. Depending on your business size, you may be better off with a simpler option.
Salesforce Sales Cloud Customer Size: Small (1-50 users) to Enterprise (201 + users)
Notable software features
API access
Database management
Contract management
Quotation handling
Territory/quota management
Performance reporting
Sales gamification
Cadence
Copper is specifically designed for small businesses who use G Suite. Users have the option to import records directly from Gmail communications and synchronize meetings with contacts.
With a 14-day free trial and paid packages starting at $25/month, Copper is a good option for those looking for the most basic features of software, such as email marketing, calendar/reminder systems, and client tracking.
Though it gears itself specifically to G Suite users, Copper offers integrations with most of the basic applications, including Intuit Quickbooks, Slack, DocuSign, Zapier, and MailChimp.
Copper Customer Size: Small (1-50 users)
Notable software features
Contact management
Campaign management
Desktop integration
Task/activity management
Dashboard
Customer support portal
Pipeline management
Learn more about our integration with Copper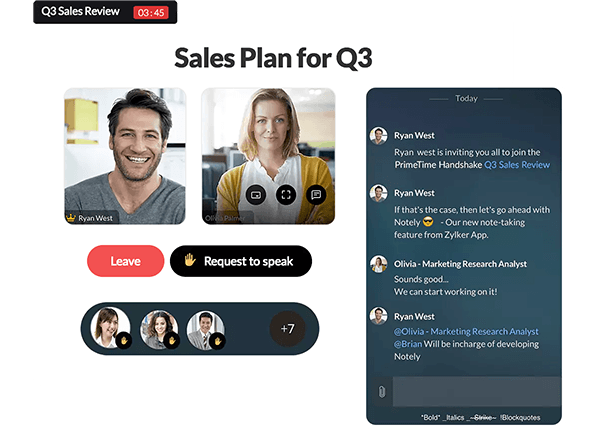 For home-based operations, ZohoCRM offers free software for small businesses for up to three users. Priced packages begin at $14/month per user, and go up to $52/month per user.
If you care to give ZohoCRM a whirl, you can test run its Ultimate package for 30 days, which includes use of its advanced business intelligence and analytics software.
Additionally, a one hour web-conference demo session can help you get accustomed to Zoho's offerings, which include leads, documents, and mobile app integrations.
ZohoCRM Customer Size: Small (1-50 users) to Enterprise (201 + users)
Notable software features
Reminder/calendar system
CRM views
Advanced filters
Page customization
Workflow rules
Standard reports
Status updates
Learn more about our integration with Zoho
How to choose the right free CRM?
As you can see, you're not starving for options. But now the real challenge begins.
We all love to snatch up anything that's free—but pump the brakes. You'll save time in the future by taking your time now to consider which free CRM platform is best for you and your team.
Every business wants happy customers, but that doesn't mean every business has the same customer service needs. So before committing the time to learning a new platform, you'll want to consider these questions:
How much time will the free CRM take to set up?
Just because something is free doesn't mean you should have to suffer through a time-consuming setup. For fast and efficient installation, seek out free platforms with cloud-based capabilities and 24/7 support. The sooner your team can get acclimated to the interface, the sooner you can start streamlining your customer care services.
Will a free CRM tool integrate with other apps?
With your business already up and running, it's likely your reps are already accustomed to using certain sales apps. It's important to know if your free trial software will integrate easily with your most commonly used applications, or if you'll have to pay for that privilege.
Some of the most common integrations available you'll see offered with free CRM apps are G Suite, Outlook 365, MailChimp, and Intuit Quickbooks.
Everyone's already using a multitude of apps to run their business, and you're probably no different. You need to know that the apps you're already using — like G Suite, Outlook 265, and Mailchimp — can be integrated easily with your free CRM app.
How easy is the CRM to use?
New software can cause severe IT headaches. Even the best apps can feel jarring if you're not given the tools and support to use it smartly. And having a load of features at your fingertips won't do you any good if you can't use them.
Not every free CRM platform is going to be user-friendly, especially if your team includes anyone who falls in the "technologically challenged" category. Introducing new business practices can be daunting, but a visually pleasing interface and intuitive usability will make your team happy to change things up.
How much will a free CRM cost down the road?
Anything that you don't pay for will only get you so far, especially if you have big entrepreneurial dreams. At some point, cost is going to enter the equation — and when it does, you can't let yourself be surprised. Always check out complete pricing models before giving the trial a go, and make sure that the package options align with your business projections.
What kind of support will I need?
If you're new to CRM software, you're going to have questions. Unless your entire business operates in a single time zone, you'll want to look for a CRM platform that has a wide range of support options, including phone support and 24/7 live chat capabilities. Additionally, because business is constantly evolving, you'll want to find a free CRM system provider that offers clear and proactive training so you're not caught off-guard by necessary updates.
Does free CRM software come with any strings attached?
In most cases, free really does mean free. Many free CRM apps won't even ask for credit card information.
Keep in mind, though, that just like other businesses, CRM software providers come in all shapes and sizes. If you want to try a simple CRM free from time constraints, some providers offer packages that home-based businesses can use for as long as they want to, so long as they only have one or two users. Other providers will allow for an unlimited number of users, but for a limited number of days.
Try CRM software for free
If you know your needs and you're interested in taking a test drive, Zendesk Sell is a cloud-based platform that you can have up and running in the time it took you to read this article.
Sell is rated among the best free CRM software for small businesses. It has a powerful interface that's intuitive to use and easy on the eye. Your team is just as important as your customers, after all — and their sanity translates into sales.
As the only CRM software evolved from a customer-support background, it was made by those who know what effortless customer service requires. It lets your team easily track and process CRM data, resulting in more personalized interactions that will let your customers know that you understand them and their needs.
If you like the idea of saving your reps precious time while still delivering stellar customer service, start your 14-day free trial of Sell today.
We have more information about this. Have a look below.
There's a lot more where this came from. Keep exploring the world of free CRM software, global user processes, and customer service management.