Explaining the Complicated So Anyone Can Understand: Q&A with Frank Pietrucha
Article
Explaining the Complicated So Anyone Can Understand: Q&A with Frank Pietrucha
Published July 15, 2014
Last modified July 15, 2014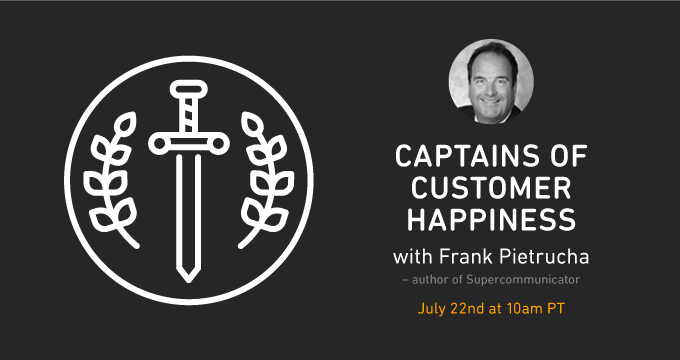 When helping solve customer issues, it can sometimes be challenging to explain complicated concepts simply and concisely—at least until Frank Pietrucha enters the picture. He works with engineers, scientists, economists, lawyers, and other smart cookies to help them mold their ideas into something the rest of us can grasp. He'll be joining us for a free 1-hour webinar on Tuesday, July 22nd at 10am PT where he'll share his tested guidelines for effective communication, including tips you can put into practice today.
To get ready for the event, we spoke with Frank about the lessons he's learned about communication from working with organizations like the International Intellectual Property Institute and NASA's Ames Research Center.
In your book, Supercommunicator: Explaining the Complicated So Anyone Can Understand, you share that even the smartest people tend to misread their audiences—even astronauts. Why does this happen, and what steps can we take to better read our audience before suggesting a solution?
Technically-minded folks have a burning desire to get into the weeds quickly to talk about the details they find most exciting. They can sometimes launch into an explanation without explaining any of the benefits associated with the solution they're pitching, leaving customers scratching their heads while muddled in confusion. Supercommunicators, on the other hand, know that the golden rule of communication is to know thy audience and target them with information that's both accessible and relevant.
Customer service agents are generally experts on the products they support, but being a subject matter expert can sometimes make explaining a complicated concept even more challenging, as they're already so familiar with it. What's your best tip for being a supercommunicator and keeping things simple?
Know when to simplify your answer and when to clarify it. There are times when people don't need a whole lot of detail. A customer may simply need to know what something does or how to make it work. Communicators often overcomplicate their message by giving too much information and wind up confusing their audience in the process. So, if the audience doesn't need to know something, hold back on extraneous content.
What's the best customer service you've ever experienced?
I remember walking into The Four Seasons Hotel in New York City right after it opened back in the early 90s. My friends and I just wanted to see the grand new hotel and maybe have a drink. We were still young at the time and not well-situated financially. We weren't dripping in diamonds or wearing fancy threads, and we didn't present ourselves as logical luxury property customers. But that didn't matter—the woman who greeted us at the door resonated pure sunshine. I never felt so welcome at a hotel as she directed us to the preferred watering hole. And that friendly level of service continued throughout our experience there. The blend of exceptional service without the "you don't belong here" attitude really speaks to me. Now that I am in a place where, from time to time, I can stay at a luxury property, I remember this welcoming experience. The Four Seasons seemed to know that someday I could be a real customer and treated up-and-coming Frank with respect and warmth.
Sign up for the free July 22nd Captains of Customer Happiness webinar with Frank Pietrucha: Supercommunicators: Explaining the Complicated So Anyone Can Understand