Article
Make Every Customer Feel Like Your Only Customer With Zendesk for SugarCRM
Published June 8, 2011
Last modified June 8, 2011
Every customer should feel like they're the only customer you have. But as your organization grows and your customer base jumps from a handful of folks to thousands, that personal connection every company wants to forge can get tricky. Thanks to our new SugarCRM integration, now you can know all of your customers on that proverbial first-name basis and keep escalations to a minimum.
Zendesk for SugarCRM gives organizations a faster, holistic, and more accurate view of their customers, from sales to support. No more having to be in two different systems. SugarCRM and Zendesk data views are available via both platforms.
What it does for your support team
Support agents can view detailed, customizable CRM information in a customer profile directly in Zendesk:
This means that when a customer files their first-ever support ticket, your agents now have a better picture of their entire ticket history with your company. It can cut down on redundancies, such as multiple requests for the same information. Agents can see a customer's different terms of services and support and distinguish between premium and non-premium customers, each of which requires a different workflow.
For instance, say you have a support request come in from one of your biggest customers. Your support agent might not know they are dealing with a VIP, but SugarCRM does. That information can help your support agent route the ticket to the appropriate party immediately in order to increase efficiency.
This integration gives a more accurate picture of your support which can result in a more seamless workflow; one that doesn't unnecessarily clog up support channels.
What it does for your sales team
Sales and marketing teams can get up-to-the-minute customer support and engagement information right from their help desk.
Zendesk tickets can be viewed directly from the SugarCRM interface, and filtered by status, priority, and type. Tickets can be updated and created all from within this CRM platform.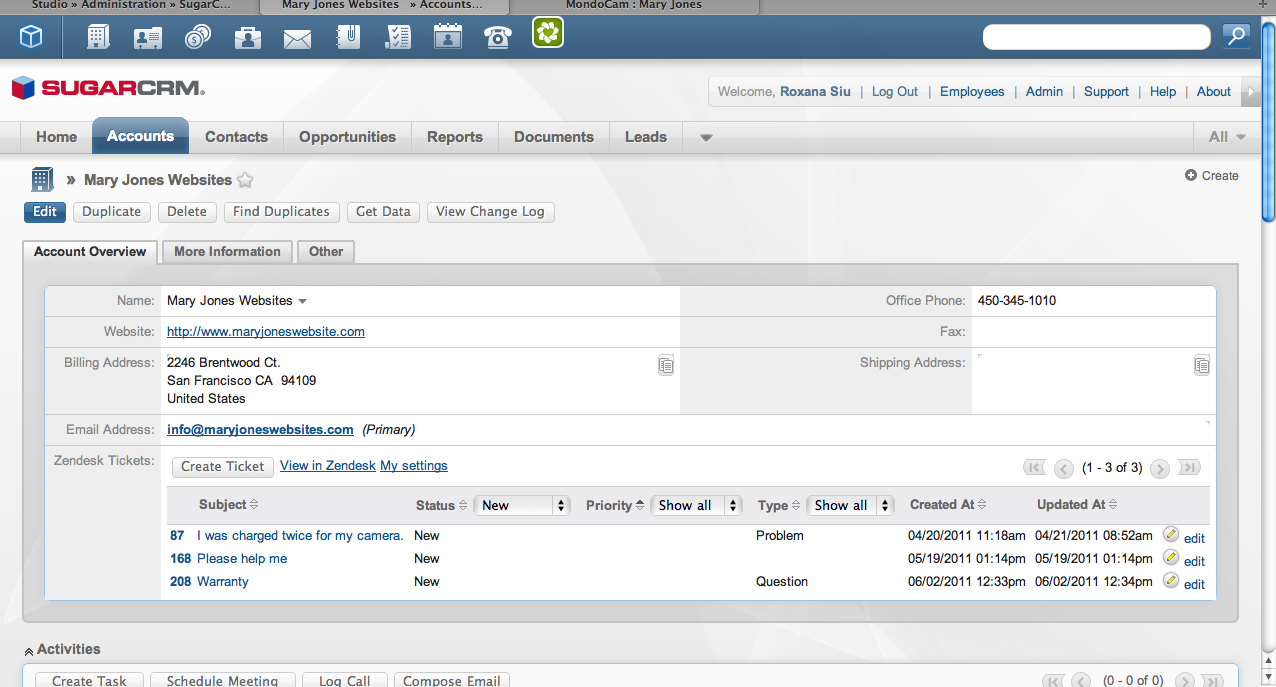 Again, all of this helps build a better, more personal customer experience, all the while improving your sales and support workflows.
For instance, if your a sales guy or gal and you have a lead you've been trying to close, you can see how well the customer's support experience has been during their trial. If it's been a seamless experience, well fantastic! You can use that as one of your selling points to close the account. If you see a long, jarring list of support requests, some of which are unresolved, you can go back to the support agent and try to smooth things out ASAP. No one wants the embarrassment of pushing a client to close a deal when that client has had a less than stellar experience at any point during their trial.
Also cool is when a customer does have an issue and tells their sales rep about it, and they can go ahead and create a ticket immediately from the SugarCRM dashboard. No more having to email the agent and then have the agent contact the customer. It also gives your sales folks the power are to solve or update customer's support issue from the CRM interface. This means support agents can prioritize their time accordingly and potential redundancies are avoided.
Customers are happy because they feel that your company is always incredibly attentive to them, which will only help to build loyalty, leads, and great reviews. Your support and sales teams are happy because they can give customers first-rate support without all the back-and-forth. And that is very sweet.
To learn more about SugarCRM go here. To watch a very cool and very short video on how the integration works, go here.