Service Desk Software
Best service desk software
Service desk software that makes your business more efficient.
A guide to the best service desk software
Seamless, omnichannel service for customers is expected. So why would service for your employees be any different?
The answer: it shouldn't be.
Fast, helpful, contextually relevant service means your organization runs more efficiently. Your employees get the information and resources they need to do their job right. And your service agents don't have to burn themselves out managing a massive workload.
But great internal service doesn't happen without the very best service desk software.
So to choose and implement the best software for your service desk, we'll cover everything you need to know about service desk software. And if you feel like skipping around the page, you can do so by clicking through the table of contents below.
What is a service desk?
A service desk is the software internal support teams use to organize, manage, and respond to questions and issues from employees. Generally, service desks are based on a ticketing system in which the client submits a ticket containing the details of their request. In response to the ticket submission, the ticketing system routes the ticket—based on workflow rules—to the appropriate resource.
Different service desks expand upon the basic ticketing system in a variety of ways, with automations, analytics, knowledge bases, and more. Service desks also vary in terms of the channels and mediums of communication they offer; some are solely email-based while others incorporate live chat, voice calls, social media, and more.
Put simply, a service desk is the software that helps your organization efficiently share its internal information and support resources with the people who need that information to do their jobs better.
Who uses service desk software?
Any internal-facing departments, such as HR, payroll, or IT, that help other employees do their job use service desk software. For example, a human resources team may use a service desk to onboard new hires. Through the software, the HR team can (often automatically) share important onboarding documents, collect employee information and signatures, facilitate training, and much more.
What are the different types of service desks?
Many different types of organizations use service desk software and each of these organizations has unique needs. So naturally, there are different types of service desk software. The five types we'll focus on here are:
Open source and closed source

Open-source service desk software is written with code that's publicly available. Any organization can copy, delete, or otherwise modify the code that makes the open-source service desk work. For some organizations, this is advantageous because they have skilled programmers who can modify the software code to their company's liking.

Closed-source service desks are the opposite. The code underlying the software is proprietary so there's no customizing other than the customization options the software has coded in. Only developers of the software employed by the organization that sells the software can change the code. This isn't as bad as it sounds, though, because APIs, 3rd-party app integrations, plugins, and SDKs make some closed-source customization possible.

On-premise and cloud-based service desk software

As with open and closed-source service desk software, on-premise and cloud-based service desks function the same. The difference is in the manner in which they're delivered, which itself has implications that affect the organization.

If you purchase on-premise service desk software, that means your company will be hosting the software on servers that it owns. The term "on-premises" refers to the location of where the software is hosted: on your premises. In contrast, cloud-based service desk software is hosted in the cloud. More specifically, it's hosted on the servers of some third party who owns and is responsible for managing the server equipment and environment.

For the most part, organizations are increasingly moving to cloud service desk software. Cloud-based software in general is less costly and resource-intensive since the third party deals with maintaining the server, updating the software, and acquiring the server space. Usually, the only reason a modern organization opts for on-premise service desk software is that they have strict data security policies and need to have complete control of their own servers.

Enterprise service desks

Very large organizations, or enterprises, tend to have more complicated needs. Unlike smaller businesses, enterprises will generally need guidance and support from the software vendor to ensure the service desk is implemented correctly. They may also require more involved customizations. Because of these needs, and others, most service desk software sellers provide an enterprise version of their service desk.

Along with more involved support, enterprise service desks will typically have much larger user and data limits. They may also be priced differently since a contract for an enterprise service desk can be worth several thousand dollars per month.
What are the key benefits of a service desk?
The key benefits of the best service desk software center around a more efficient exchange of information. These benefits include:
Increased transparency in internal communication
As an organization grows, internal communications naturally become more opaque. Left unchecked, this often leads to frustration for employees who don't know who to ask or where to go to get the information they need to do their job. Service desk software helps mitigate this problem by centralizing an employee's access to the information they need.
Rather than attempting to figure out what department to contact, employees can simply submit a service desk ticket and get routed to the appropriate person. On the other side, service agents have full visibility into ticket submissions and histories through their shared inbox.
More efficient, less costly service fulfillment
The best service desk software reduces costs by requiring fewer of the employees using the system to request help as well as the employees providing the help. Service desks reduce service costs for agents with features like workflow-based rules, automations, pre-filled ticket information, smart ticket routing, chatbots, and more.
Also, service desks make communication and coordination between service agents more efficient, which helps them provide better service. At the same time, service desk software
reduces costs for employees because they reduce the time it takes for employees to find accurate information.
Ongoing organizational improvement
The best service desk software implementation is not a set it and forget it proposition. Through smart tracking, transparent reporting, and insightful analytics, service desk software helps you collect, analyze, and share actionable insights with service agents, managers, and executives. In this way, a good service desk helps facilitate continuous improvement of your internal service operation.
Not only that, through demand forecasting, analytics can help your managers make data-driven staffing decisions to ensure the organization is using its existing resources as efficiently as possible.
What are the responsibilities of a service desk management system?
The service desk management system is what Service Desk Managers rely on to help them oversee the daily activity of their service desk operations. The overarching responsibility of this system is to help managers ensure business teams and their customers are receiving the support they need to do their jobs. Service desk management systems typically include features that help managers ensure tickets are sufficiently addressed.
These types of features may include:
Staff scheduling tools
Asset and vendor management
Budgeting
Process definitions
Since service desk managers act as the go-between for the service desk and other managers or executives of the business, they help inform business decisions that may impact the service operation.
Best practices for service desk software
Create a service desk catalog
A service desk catalog is a roadmap, designed with the desk's customers in mind, that includes the information users need to request service. Your service catalog should be clearly written and provide simple instructions. Of course, what's in your catalog will vary depending on how your service desk is structured, but a few key items to include in your catalog are:
Catalog item name
Departamento
Issue tracking process
Delivery expectations
Point of contact for questions
Cost of service
Security and access permissions
Offer a knowledge base
More often than not, your users will need solutions to common, simple issues that don't require a live agent. So a knowledge base or portal that users can serve themselves with is vital. Not only does the knowledge base help users find the information they need without waiting for an agent, but it also reduces the workload on your agents which allows them to deal with more complex issues. Plus, even when your agents are offline, self-service options provide users with a place to go to resolve issues.
Build an end-to-end issue tracking workflow
Transparency is a key component of effective communication in any scenario. And it's especially important when it comes to providing excellent internal support. Service desk staff and customers both must have easy visibility of their issue as it progresses towards resolution. This helps agents pick up and hand off tickets when they need to and it reduces frustration for the customer since they always know what's going on.
Cultivate a culture of service
Even the best service desk software can't solve a problematic culture. So help train your service desk managers to ensure that their agents are providing customers with everything they need to accomplish their tasks. With the right approach, the service desk will come to be known as a place where problems get solved, rather than the place to direct blame and point fingers.
What are some current trends related to service desk software?
Change is the only constant and the world around service desk software is no different. The following trends are changing the way companies purchase, deploy, and manage their service desks:
Pressure on productivity at the enterprise level
Improving productivity is always a priority but it's especially so in large enterprises. And IT has an outsized impact on a complex organization's ability to get work done efficiently. This is because efficiency boils down to two main components: procedures and tools. And it's on IT to select, deploy, and manage these tools and procedures.
Mass migration to the cloud
Business success always depended on an organization's ability to focus its resources on initiatives with the greatest return on investment. With the rise of cloud-based software, organizations can now choose to outsource their software maintenance burden to a third party and focus on their core business. And many are choosing to do just that. As a result, most businesses show a clear preference for cloud-based software, whether it's a service desk or a CRM.
The rise of corporate social media
Service help desks have traditionally relied on a ticket-based system to manage requests for support. But, for many employees, social media is increasingly a large part of their online experience. And that's starting to extend to the corporate world where social media tools like Yammer are providing a new place for employees to connect. In many cases, employees also use these tools to look for assistance or complain about an issue. This makes corporate social media an important channel for collecting feedback, monitoring issues, and responding to requests for help.
Top 15 service desk software systems
Zendesk




Help Scout




JIRA Service Management




Vision Helpdesk




Salesforce Service Cloud




Slack




Huddle




Wix Answers



Notion




Ada for Chat




Zowie for Chat




Solarwinds Service Desk




Rezo




Exalate




Slab



1. Zendesk
Though you may know it as a robust help desk solution, Zendesk also doubles as a comprehensive service desk software. And Zendesk takes great pride in not claiming any kind of ITIL compliance. Of course, we are ITIL natives and we wouldn't dream of building a service desk management system that didn't empower service teams adhering to ITIL principles.
But products that claim they provide support to all ITIL processes are breaking one of the key principles of good product design: you can't be good at everything. The ITIL processes may very well be a tightly connected family, but that doesn't mean that one tool fits all family members.
Nor should it—ITIL is a set of best practices. They're guidelines, not hard and fast rules. It's up to you, your team, and your service desk software implementation to execute an ITIL-based service operation that works for your organization.
A different approach to service desk
Tailor your ITIL implementation for a perfect fit. Zendesk Support threads the needle between supporting ITIL processes without adding the typical complexity of a so-called ITIL compliant tool. This ensures you, and your agents, can put your focus where it counts: on delivering superior service.
And with our flexibility and analytics, you have a system that truly facilitates continuous improvement—the core ITIL tenet.
Aproveite os benefícios
Zendesk's service desk software puts multi-channel ticketing and employee self-service portals in a single place. Using Zendesk, service agents can meet, and help, their customers wherever they are: on social media, live chat, email, over the phone, and more. Plus IT teams can efficiently track problems, trouble tickets, changes, and assets while still bringing great service to their best customers—other employees.
A timely solution
Zendesk's powerful service desk software helps service teams:
Manage incidents, events, problems, and service requests easily
Solve common user problems faster with predefined responses called macros
Tag issues to report, categorize, and track problems across tickets
Keep track of phones, computers, monitors, and more by integrating with common IT asset management tools
Key features of Zendesk include:
While Help Scout's service desk software boasts a feature set full enough for internal service teams of 500 agents or more, it can also work for small businesses. With all of the service desk features you'd expect, from native knowledge bases and robust reporting to ticket management and plenty of integrations, Help Scout is a solid service desk option.
You can try it for yourself with a free 14-day trial and then revert to its Standard ($20 per month per user) or Plus plan ($35 per user per month). For their Company plan, which is designed for large enterprises, you'll need to use their website to request a quote. As a bonus, Help Scout offers a discount for startups and environmentally and socially focused companies.
Key features of Help Scout (paid plan)
3rd-party and native integrations
Automation
Custom responses
Chat em tempo real
Relatórios
Sistema de gerenciamento de tickets
Self-service options
Multi-channel support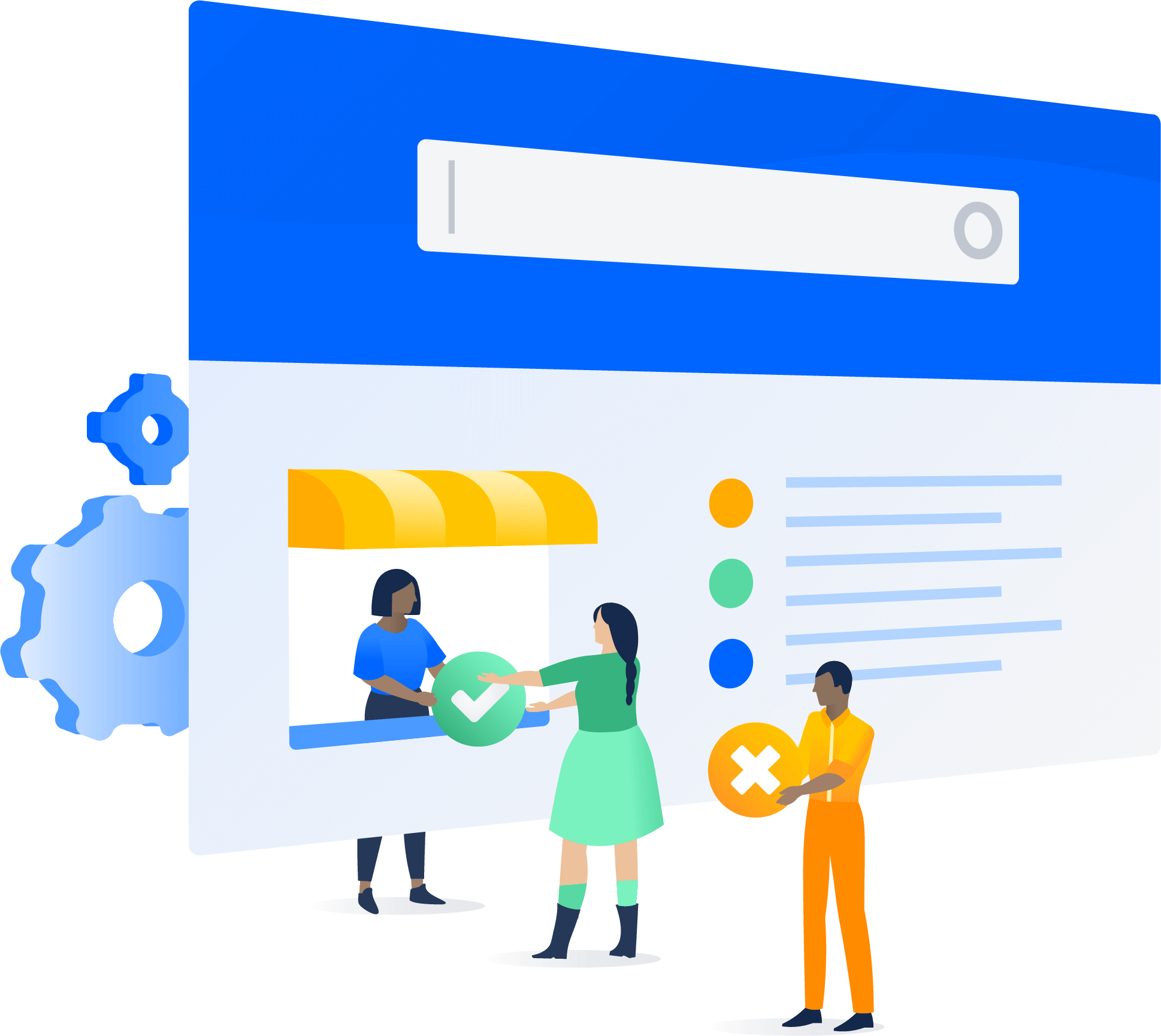 JIRA Service Management is Atlassian's flagship solution, a service desk software product that's cloud-based and designed for Dev, IT, HR, legal, and other internal support teams. Among its many sophisticated features are conversational ticketing, automation, self-service, incident management, and native knowledge base integrations. However to access the knowledge base integration, a Confluence subscription is required.
JIRA has become popular for its balanced blend of sophistication and performance coupled with simplicity that allows teams to set up quickly, continuously adapt, and provide great service. You can try JIRA with their free plan for up to three agents or ten users. Alternatively, the JIRA Standard or Premium plan is available for you to try with a 7-day free trial.
Key features of JIRA (paid plan)
Conversational ticketing
Post-incident analysis
Tracking and reporting
Asset and SLA management
Smart automation
Self-service portal
API and SDKs
Learn more about Jira for Zendesk
Vision Helpdesk's service desk software enables your service agents to plan, structure, and deliver their service. The system is designed to automate as many service desk functions as possible—including (but not limited to) change, security, and service-level management.
Vision Helpdesk is cloud-based and industry-agnostic, meaning any service team can use it to great effect. And one thing that's especially unique about Vision is its gamification feature, designed to help incentivize your service agents to meet their targets.
Key features of Vision Helpdesk (paid plan)
Knowledge base management
Robust automations
API and native app integrations
Chat em tempo real
Advanced reporting
Gerenciamento de tickets
Asset management
Shared inbox
Personalização
You may be familiar with Salesforce's CRM, but it turns out they also offer a robust service desk software solution. Among other features, the Salesforce Service Cloud equips your service team with native productivity tools, an omnichannel dashboard, and a centralized view of customer interactions and case details.
If you're already a Salesforce user, the Service Cloud will fit in seamlessly with any other Salesforce systems you're using. And while there's no free version, you can do a free trial of this service desk software for a full 30 days to decide if it's right for your team.
Key features of Salesforce Service Cloud (paid plan)
Gestão do conhecimento
Service desk analytics
Online training and on-demand webinars
Process automations
APIs, SDKs, native, and 3rd party integrations
Suporte omnichannel
Asset management
Self-service options
Fóruns
Learn more about using Salesforce with Zendesk
The best service desk leverages the tools your employees already use in creative ways. And because of how flexible it is, Slack is one of the easiest service desk tools you can use to complement your implementation. With the right apps, integrations, and workflows, you can even use Slack as a substitute for your service desk software.
But even if you're not going so far as replacing your service desk with Slack, you can still use it to organize communication, manage tickets, document responses to your knowledge base, answer questions automatically, and more. To integrate Slack with your service desk, you can try it for free with limited features or do a free trial of one of their paid plans.
Key features of Slack (Pro plan)
Unlimited message history
Unlimited app integrations
Slack Huddles
Chamadas de voz e vídeo
Custom user groups
suporte 24 horas por dia, 7 dias por semana
Learn more about using Slack with Zendesk
If all your service desk is missing is a secure place to share and edit documents or large files, a portal may be just the thing you need. Huddle is billed as a customer portal specifically created for complicated engagements. But it goes beyond file storage by enabling Microsoft Power Automation integration and task management. Using Huddle Connectors, you can enhance your service desk with smart automations.
It bears repeating, though, that Huddle isn't a replacement for a full-fledged service desk software. It can, however, serve as a secure self-service portal for your employees to get their questions answered and files shared without overburdening your internal service teams.
Key features of Huddle (paid plan)
Secure file management
Custom branding
Microsoft Power Automate integration
Document version control, permissions, and audit trail
Mobile security
Task manager
Inevitably, internal support teams will end up answering many simple questions that don't actually require a live agent. To solve this problem, many service desk features include native knowledge bases. But if yours doesn't, or you prefer the simplicity of a purpose-built knowledge base, Wix Answers can double as your self-serve service desk.
Wix Answers is a simple, intuitive knowledge base built by the same company that built the hugely popular website editor, Wix. It's designed for small to medium-sized businesses and its software is cloud-based. The knowledge base is priced at $19 per user per month. Or, you can opt for their higher tier plan—another $11 per user per month—to get access to live chat, ticketing, and call center features.
Key features of Wix Answers (paid plan)
Knowledge base content management
Branding customization
Article categorization
Built-in SEO
Text search
Customer feedback surveys
Fóruns
Relatórios
Notion is a flexible service desk tool that can be an ideal complement to your core service desk software. Whether you'd like to create an internal knowledge base, manage projects, take notes, outline product roadmaps, and more. It features a markdown editor and a block-based system for creating and nesting pages.
With all of Notion's flexibility comes a fairly steep learning curve compared to more purpose-driven service desk software. Notion's pre-made templates can help you determine how to best use the software. But ultimately, how you build and structure your knowledge base or project management system will be largely up to you. There is a free version of Notion that provides all the software's features with limitations on how many blocks you can create. Paid plans are $8 per team member per month.
Key features of Notion (free plan)
Nested page navigation
Content management
Pre-made templates
Drag-and-drop block editor
Built-in search
Markdown editor
Zendesk's premier chatbot partner, Ada, is powered by artificial Intelligence and natural language processing. Even non-developers can build Ada chatbots, using its visual design interface, to create automated workflows to resolve frequently asked questions or handoff more complex issues to live agents.
Ada is essentially your service desk's first line of support. For some companies, it automatically resolves more than 80% of customer queries. All those tickets handled by Ada gives your service desk more time to deal with complicated issues that require the expertise of a live agent. As a result, your service improves, without ballooning costs.
Key features of Ada for Chat (paid plan)
Natural language processing
Automated workflows
Bot to agent handoffs
Tracking and reporting
Full customization
Zendesk integration
No-code chatbot builder
Saiba mais sobre Zendesk for Ada
Chatbots that can automate resolutions to common customer queries allow your service desk to scale in ways that simply aren't possible without automation. But actually implementing and optimizing your chatbot strategy isn't as intuitive as you might think. Zowie for Chat solves this by compiling your historical chat data and having a Zowie expert leverage that data and work with you to create the optimal chatbot automation strategy.
You can deploy Zowie in your support chatbots on mobile, social media, messenger apps, and websites. Plus, it integrates with any service desk software you're already using. To get pricing for Zowie, you'll need to reach out via their website.
O Zowie é compatível com 56 idiomas e oferece suporte a chatbots no chat do website, chat em dispositivos móveis, mídias sociais e aplicativos de mensagens. A Zowie não publica informações sobre preços, portanto, você precisa entrar em contato com eles por meio do website para obter os preços mais atuais.
Key features of Zowie for Chat (paid plan)
Compatible with 56 languages
Multi-channel integration
Automation
Respostas rápidas
Relatórios e análise
Encaminhamento de chat
E-commerce and data analytics integrations
Saiba mais sobre a Zendesk for Zowie
For service desk software designed for IT teams, you can't go wrong with SolarWinds Service Desk. This solution helps enterprises establish IT governance and keep users happy. IT Teams use it to control their inventory, detect compliance risks, organize contract and license documents, and—above all—provide exceptional service.
SolarWinds service desk software is delivered as a SaaS solution and works for any size company. Out of the box, it provides automations, asset management, remote access, ticketing, knowledge base management, and more. You start a 30-day free trial of SolarWinds and after that their pricing starts at $19 per month per technician.
Key features of SolarWinds Service Desk (paid plan)
Centralized web-based interface
Ticket grouping
Rules-based ticket automations
Hardware and software asset management
Built-in knowledge base
SLA support
Native integrations
Agent ratings
Email-to-ticket conversion
Gerenciamento de mudanças
Reporting and monitoring
Providing great service to your employees is one thing. Providing that great service at scale is another. And that's where Rezo, an automation platform powered by AI, comes in. Rezo integrates with your service desk software to analyze service conversations and deliver smart automations. Whichever service channels you use—email, voice, chat, WhatsApp, or all of the above—Rezo can integrate with it.
For all its power and sophistication, Rezo is surprisingly easy to use. Its no-code platform means even non-technical teams can make and manage their own bots. Rezo doesn't publish its pricing information, but you can schedule a demo with their team through the Rezo website.
Key features of Rezo (paid plan)
Natural language processing
Conversation enabler
Agent evaluation
No-code bot builder

Learn more about Zendesk for Rezo

If your company is like most, your employees, partners, and customers use many different systems. This creates challenges in ensuring all issues that flow through your service desk software are synced where they should be. In a nutshell, this is the problem that Exalate solves.
Exalate is a comprehensive, flexible synchronization tool that is a great complement to any service desk. Basic synchronization use cases are available right when you install Exalate and you can customize for specific use cases with Exalate's scripting engine. One common way to save time with Exalate is to use it to sync all your service desk's ticket information such as title, comments, description, etc. You can sign up for a free plan from Exalate for basic use cases but you'll need a premium plan for more advanced service desk features.
Key features of Exalate (Premium plan)
Real-time one and two-way syncs
Unlimited custom field support
Scripting engine
Error handling
1-hour onboarding call
Learn more about Zendesk for Exalate
Knowledge bases empower customers to resolve their own issues, removing the need for service agents to answer repetitive questions and resolve common issues. Slab's knowledge base software allows your agents to easily create resources in a simple editing interface. And it ensures the right resource gets to the right person with powerful search features and plenty of integrations with popular tools.
Slab is geared towards engineering, operations, and sales teams, but it's intuitive knowledge base and internal wiki builders can be put to use by anyone. Slab has a free version that can accommodate up to 10 users with limited file storage and version history. Otherwise, their paid plans range from $8 to $15 per user per month when paid annually.
Key features of Slab (paid plan)
Unlimited users
365 days of version history
Real-time collaboration
Unified search
Private topics
Usage analytics
Unlimited standard integrations
Summary of the best service desk systems
| Service desk | Base de conhecimento | Ticketing | Automation | Integrações |
| --- | --- | --- | --- | --- |
| Zendesk | ✓ | ✓ | ✓ | ✓ |
| Help Scout | ✓ | ✓ | ✓ | ✓ |
| JIRA Service Management | ✓ | ✓ | ✓ | ✓ |
| Vision Helpdesk | ✓ | ✓ | ✓ | ✓ |
| Salesforce Service Cloud | ✓ | ✓ | ✓ | ✓ |
| Slack | X | X | ✓ | ✓ |
| Huddle | X | X | ✓ | ✓ |
| Wix Answers | ✓ | X | ✓ | ✓ |
| Notion | ✓ | X | ✓ | ✓ |
| Ada for Chat | X | X | ✓ | X |
| Zowie for Chat | X | X | ✓ | ✓ |
| Solarwinds | ✓ | ✓ | ✓ | ✓ |
| Rezo | X | X | ✓ | ✓ |
| Exalate | X | X | ✓ | ✓ |
| Slab | ✓ | X | ✓ | ✓ |
How to choose the right service desk for your company?
A service help desk collects tickets when someone calls you, texts your support number, writes a comment on your Facebook wall, emails you directly, and more. It takes all of those interactions and organizes them in a central location. This lets your agents do what they do best without wasting time switching programs or searching through email chains. You can also use the same type of software to run an IT services help desk to make sure your employees are heard and their issues get resolved.
When you shop around for a service desk, it's a good idea to consider things like:
Budget: Find a plan that fits your budget and your needs. By shopping only on price, you may end up with a cheap service desk system that's lacking in features. Consider the hours it will take your team to set up the program and adopt its features in the overall cost as well.
Channel support: How many channels do your customers use to get in touch? At a minimum, the system you select should sync all the channels you currently use in one inbox. It's also useful to have access to more channels in case you want to expand in the future.
Number of agents: Is there a cap on the number of agents you can have? Or, does the program have certain tiers that require a minimum number of agents?
Scalability: A scalable system can future-proof your customer service department and allow you to easily add more agents and channels. In other words, you shouldn't have to purchase a new service desk system when it's time to grow.
Language support: A good system will support a wide range of languages and also let you handle multiple languages at the same time.
Self-service portal: The software should make it easy to create a library of answers to frequently asked questions and also make it easy for customers to find them.
Frequently asked questions on service desk software
What is ITIL and why is it important for service desk software?
ITIL is a detailed set of guidelines and best practices for IT responsibilities, such as asset management. ITIL's framework focuses on efficiently deploying IT resources in line with business needs, which is exactly the task that service desk software is supposed to accomplish. For IT organizations adhering to ITIL, having service desk software that helps facilitate ITIL practices is critical.
What if your service desk just managed itself?
With smart triggers, canned responses, automated workflows, and AI-enabled bots, service desks can indeed manage themselves. But only up to a point. While AI and machine learning may one day advance to the point that a service desk could manage itself, today's not that day. Service agents are needed for their superior ability to handle complex and unpredictable issues with empathy.
What customer support processes can you automate through your service desk software?
Several customer support processes you can automate with service desk software include:
Encaminhamento de ticket
Knowledge base content recommendations
Answering frequently asked questions
Onboarding new employees
Resetting passwords
Transferência de tickets
Collecting feedback
Monitoring performance
Alerts and notifications
What communication channels does your service desk tool integrate with?
The communication channels your service desk tool integrates with depends on the software. While Zendesk integrates with virtually all messaging channels—voice, email, text, social media, live chat, and more—other service desk software might only work for email.
Give service desk software a try
Our service desk software is designed with people, and the relationships between those people, in mind. That means arming your internal service agents with customizable messages, custom views of incoming queries, convenient automations, and more. It also means encouraging collaboration between team members and ensuring one agent isn't the sole bearer of knowledge and context behind a customer's concern.
The result of all this? A seamless experience for your customers.
Temos muito o que dizer sobre esse assunto. Dá só uma olhada.
The benefits of service desk software are almost unlimited. Learn more about how it can help you give your customers the best IT support: